Jodi Rutenberg, President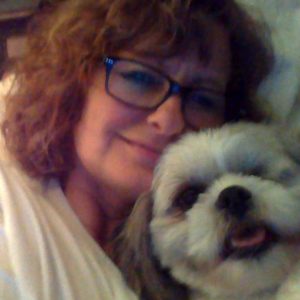 Animal rescue is my passion. For the past eight years, I have worked with organizations devoted to the reduction of animal euthanasia and the promotion of spay and neuter information. I love all animals, and came to know this group through the adoption of a beautiful Golden Retriever. Getting to know this amazing group of tireless volunteers has been one of the greatest pleasures of my life!
I have three beautiful human children, and a houseful of animal fur babies. We share our home with two shih tzus, a german shepard,and a cat named Jitters. My daughter's horse has to live at the barn, much to his dismay. There is almost always an open "guest" crate, and a rotation of wonderful foster creatures to fill it.
My heart is expanded with each and every animal that finds it's FORever home through our efforts.I look forward to the opportunity to continue serving the animals through Friends of Rescue.
Diana Crawford, Vice President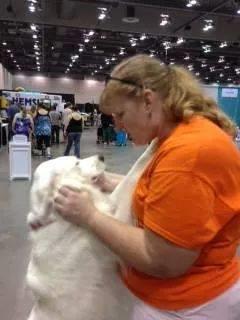 I walked into rescue, without a clue, about 5 years ago.  I took my first foster; Fenway,  a flat coat retriever mix, on a whim.  I saw his picture.  Sent an email to foster… and I was hooked.  Fostering was an addiction.  I loved that I was doing something good and felt like I had found my mission. I loved that I was supported and walked through every step of the process from selecting to placing an animal.  I loved that they were able to provide vet services and I could focus on loving an animal, without worrying what would happen if it needed vet care, that I couldn't afford out of my own pocket. I don't know how many I've fostered since then.  As time has passed, my role in rescue has shifted.  In addition to FOR, I try to volunteer at Huntsville Animal Services a few times a month. My mission is to be a voice for those that don't have one… for any animal. One animal at a time.   While my focus has mostly been on dogs, I love cats too and almost all critters.. except spiders… and I learn something new every day. When my house or time was unmanageable, FOR has allowed me to work as a volunteer in many capacities, from fundraising to a supporting other foster homes, to just educating. That's what I love about FOR.  They have been willing to grow with me and help me, help animals.  And now, I am honored to act as a board member.
Outside of FOR, I work full time.  I am married to a supportive husband who accepts my love and willingness to help animals, although sometimes less than thrilled when I show up with another one without warning.  I have two active teenage boys, who share my love of animals and have been troopers through all of the fosters. We share our home with two goldens, two beautiful setter/border collie mixes, and a stubborn cocker spaniel. All rescues. And a usually a foster.
I look forward to the day when there isn't such a desperate need for Rescues. A day when pets will be spayed and neutered, and treated with the respect and love they deserve.
Rachel Beard, Secretary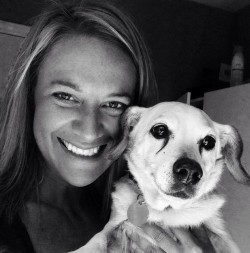 I got into rescue through my sister, Bethany Marbut.  Once I started fostering, I was hooked.  I had finally discovered my passion.  I've learned so much during the past six years of rescue work and I am very lucky to be a part of such an amazing group!  FOR has grown so much in the past few years and I love working with like minded people who have the same passion.  We are all a team and help each other.  I couldn't imagine not having rescue in my life.  It's a second family for me and I'm in awe of how many lives we've saved.  Can't wait to see what the future holds for Friends of Rescue.  Come be a part of it!
Kim Brown, Treasurer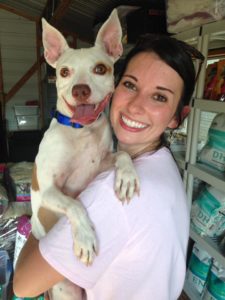 I started rescuing dogs in 2014 as a clueless civilian walking into a local shelter in response to an urgent cry for help. I walked around and picked the dog that looked the saddest, Greyson. I remember a FOR volunteer offering to help me that day. She probably sensed that I was overwhelmed. Since then, I've volunteered with other animal organizations in Huntsville but FOR felt like home.
FOR allows me to achieve my rescue dreams. Without them, I wouldn't be able to save animals from certain death. My favorite FOR rescue story so far has been the one of Sophia. I walked into a rural shelter one Friday to take photos of the adoptable dogs for the FOR volunteer Facebook page with no intentions of taking one home that day. The shelter director showed me Sophia, a 10lb yorkie/terrier mix that had been hit by a car and had a shattered pelvis. She told me she was going to humanely euthanize her that evening if no one stepped forward because she didn't want her to suffer over the weekend. I decided that I was up for the challenge and took her in. The shattered pelvis required extensive, expensive surgery at a specialist and she wasn't allowed to have any freedom for two months. It was awful to see the poor girl go through what she did and wonderful to watch her heal and have a second chance at life. That little dog made a full recovery and it's all thanks to FOR and their supporters.
Not only does FOR pay for animal vetting and help with needed supplies but it provides an instant connection to people just like you that want you to succeed with your animal rescue efforts. Not everyone that volunteers with FOR is able to foster but without those that transport, short term foster, keep supplies in order, keep medicine on order, and all the other jobs we wouldn't survive. It takes a village and I am a proud member of this one. As a kid a lot of us want to be veterinarians so we can save all the animals. I may not be a veterinarian, but I've found a way to help save animals. .
Tina Cooley, Public Relations/IT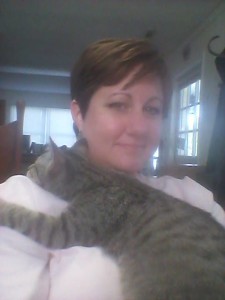 I had fostered with organizations before, since 2006.  But it was not very enjoyable, and extremely "industrialized" and draining. I felt like what I was doing wasn't appreciated.  That all changed when I began my adventure with FOR in April 2013.  The support from FOR was amazing.  I felt appreciated and knew that what I was doing was the right thing.  It all began when I volunteered to foster three tiny orphaned kittens, and much to my surprise, it was a 48 hour period full of firsts that made me realize that we have a problem in our society with throwing away animals.  They have no voice and advocates are rare.  I spent the first 48 hours bottle feeding for the first time (I had no clue what I was doing), no sleep, mourning the loss of a tiny life, and gradually celebrating the lives of the ones that survived.  I experienced my first adoption a few months later, which was difficult but exciting, and my first foster failure, Sambo, some 6 months later.  This litter of three changed my life.  From then on, I educated myself and sought out support to learn all I could about bottle feeding kittens and have become one of FOR's kitten nurses.  I have enjoyed becoming part of FOR's team and I love to help with whatever I can, whenever I can.